During the previous month of December, the Association for Freedom of Thought and Expression (AFTE) monitored the state and problems of freedom of thought and expression in Egypt. Through its various units' activities, AFTE issued papers on pretrial detention and laws of regulating information acess, reports, and statements that take a deeper look at some of the issues of freedom of thought and expression currently raised and provided legal aid in cases related to freedom of thoughts and expression.
1. Publications:
Within its efforts in providing support to victims of freedom of expression, AFTE issued Pretrial Detention List of citizens to whom AFTE provides legal support on the background of the use of pretrial detention to punish them for expressing their opinions, to the competent authorities, whether those implementing the national strategy for human rights or the authorities Judicial, to release them or use any alternative to pretrial detention.
Open Access paper focuses on analyzing some regional cases regarding the issuance of laws regulating information access in Tunisia and Jordan as examples, through monitoring the legislative context prior to the issuance of their laws. reading and analyzing the right to access information law in Jordan, and the right to access to information law in Tunisia.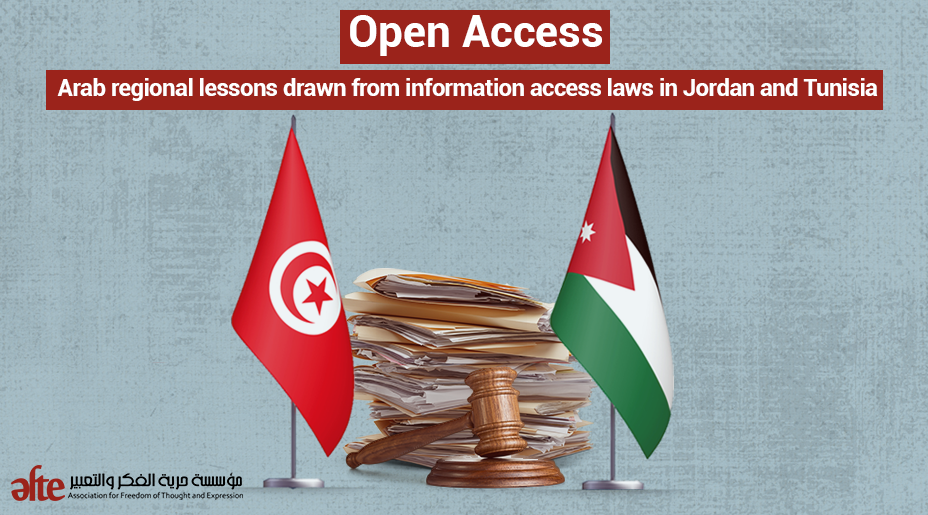 Egyptian researchers who are studying for masters or doctoral degrees, and holders of various educational grants or participants of exchange programs with foreign universities according to joint protocols, are subjected to various forms of constraints and violations that have been ongoing for over five years. "Won't stop" documented a part of it.
AFTE also issued Viewership research and promotion of competitiveness in the media on viewership surveys banning in Egypt by the Supreme Council for Media Regulation (SCMR) since June 2017, which negatively affects the profits of television networks and channels, in addition to the impact of competitiveness after companies established by sovereign bodies acquired the largest share of private television networks.
Pretrial detention in Egyptian legislation paper reviews the texts contained in the Criminal Procedures Law No. 150 of 1950 regarding pretrial detention and provides an objective analysis of these texts. It also reviews some guarantees related to pretrial detention in French legislation.
The issue of selecting university leaders is one of the main determinants of university independence and good governance. In Egypt, universities have been a space for political activism and student activity, Public universities in Egypt suffer many problems related to the appointment of university leaders by the President of the Republic.
AFTE presents this guide regarding the Information Circulation Law to Egyptian legislators, in hope that it will help expand the legislator's grasp of matters related to drafting the Information Circulation Law.
2. Statements:
AFTE issued several statements during December, including:
A statement titled Human rights organizations demand the release of political activist and writer Ahmed Douma who enters his eighth year of arbitrary detention, against the background of his political activism and his relentless pursuit of freedom and democracy.
AFTE also signed statement Human rights organizations condemn the referral of Dr. Manar Al-Tantawy to a disciplinary hearing and demand an end to the ongoing arbitrary practices against her, condemning the decision taken by the dean of the Higher Technological Institute (HTI) in the 10th of Ramadan City to refer the institute's assistant professor at the 6th of October branch, Manar Al-Tantawy, to a disciplinary hearing. The undersigned organizations call on the HTI dean to immediately cancel his decision and canceling all the arbitrary decisions issued by the institute against her.
3. Legal Aid:
– Supreme State Security Prosecution orders to detain Mohamed Amer for 15 days
– The disciplinary hearing of Ayman Mansour Nada adjourned to January 4
– The trial session of Amr Socrates adjourned to December 27
– Criminal Court orders to release Mohamed Essam and to renew the precautionary measures of Alaa Zaki
– Hearing of two lawsuits before the Administrative Judiciary Court demanding that Ahmed Doma and Omar Mohamed Ali remotely resume their studies digitally adjourned to January 9
– Criminal Court order to renew the detention of Belal Abdel Razek and to renew the precautionary measures of Mohamed Gaber Soliman El-Masry
– Criminal Court orders to extend the detention of Mohamed Salah and Ahmed Yousry Ghaly for 45 days
– Criminal Court orders to extend the detention of Hamed Sedeek for 45 days
– Criminal Court orders to renew the detention of Kholoud Saied Amer for 45 days
– Criminal Court orders to renew the detention of Mohamed Mamdouh Abdel Halim for 45 days
– State Commissioners Authority schedules the appeal against dismissing student Omar Mohamed Ali for reporting
– Criminal Court orders to renew the detention of Ahmed El-Toukhy for 45 days
– Criminal Court orders to renew the detention of Hossam Elden Shaaban for 45 days
– Criminal Court orders to renew the detention of Alaa Essam for 45 days
– Emergency State Security Misdemeanor Court sentences Oxygen 4 years in prison
– Criminal Court orders to extend the detention of Amer Abdel-Moneim for 45 days
– Criminal Court orders to renew the detention of lawyer Mohamed Ramadan for 45 days
– Criminal Court orders to renew the detention of Tawfiq Ghanem for 45 days
– Criminal Court orders to release six defendants
– Criminal Court orders to renew the detention of Mohamed Oxygen and Sameh Saudi for 45 days
– Trail session of Haneen Hossam on human trafficking adjourned to January 18
– The trial of Ayman Mansour Nada adjourned to next January 26
– Amr Socrates sentenced to one year in prison